Saying 'Thank You' with Flowers is Always More Special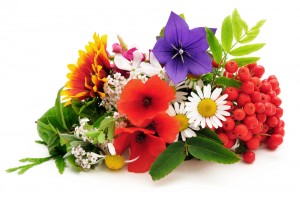 When it comes to saying 'Thank You', don't just send a card. Make a gesture that really shows your thanks from the bottom of your heart and remind your friend or loved one of how strong your friendship is. There are plenty of ways to say, 'Thank You', especially now with the ease of the Internet. You can send a quick email or make a phone call. You could send a card by post or offer to do a favour in return. But there are some occasions when those gestures just aren't quite enough to express the gratitude that you feel. For those occasions, when someone has gone out of their way for you and you need to say a heartfelt, 'Thanks', a flower delivery from FlowerDelivery.org.uk is the best choice.

While flowers are useful for many different kinds of occasions, they are especially welcome as a symbol of gratitude when a friend, colleague or loved one has done something to help you out. You may have asked for help, or the help may have arrived unbidden. Either way, showing your appreciation is always the proper gesture in return, to ensure that your friendship continues to thrive and that you will be there for each other in the future. Thank You Flowers are not of one sort. You have so many varieties to choose from that the options may be a bit dizzying at first. Should you send a basket of flowers that will bloom again and again? Should you send a bouquet of bright-coloured blossoms that will say a sunny 'Thank You', or should you send a gift of balloons with a printed message that says what you mean directly?

It can be difficult to choose just how to say 'Thank You' when you have received a favour from someone. But sending flowers is a surefire way to show your appreciation. With us you have so many options, that you are sure to find one to fit your wallet. Whether you spend a lot or a little, you will be getting a great value for your money, especially when you consider our speedy delivery! When sending Thank You Flowers, you can add all sorts of other gifts to make the delivery extra special. At our company we make it easy to say 'Thank You' in all sorts of ways; all you need to do is choose.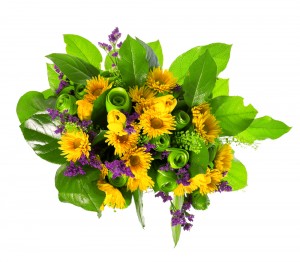 A bouquet of brightly coloured flowers is a traditional way to say 'Thanks'. There are roses, daisies, tulips, marigolds, lilacs, lilies and so much more available from our website. Flowers that come in yellow, orange, and red hues, as well as purple and even white can be added to a Thank You Bouquet to great effect. You want to send something upbeat and sunny, since you want to reflect how you feel about the favour you have received. Your arrangement can come in a glass vase, a coloured vase or a basket or a pot. The choice is all yours.

Potted plants are a great way to show someone that you appreciate what he or she has done for you. They are the gift that keeps on giving, for months or even years. So for a long-lasting gesture, choose a beautiful potted flower. Orchids are some of the most popular choices for this type of flower delivery. They come in many different shades, from deep purple and magenta to white or light pink. Their delicate blossoms sit atop a simple stalk while broad, dark green leaves make up the base. Orchids make some of the most striking gifts and since they have such long lives, they can continue to show your gratitude long after anything else.

There are plenty of gift baskets that include champagne, chocolates, stuffed toys and balloons that can also be added to your gift to show how grateful you are. Your friend or coworker will definitely know that the efforts put forth are appreciated, which is so important in today's digital age. Think of how much nicer it is to receive a real flower delivery instead of just an electronic note. There are some occasions that deserve our attention and saying 'Thank You', to a friend or loved one is certainly one of those. Our deliveries always arrive on time, and you can order right now online or over the phone. We even offer next-day delivery, so your 'Thanks' will arrive immediately. That's much better than remembering a few weeks from now to ring and say, 'Thank You'. Take a moment to choose a gift that will bring surprise and delight when the delivery van pulls up. It's so easy with us that you will think of all the other people you need to say, 'Thank You' to and start ordering gifts for them.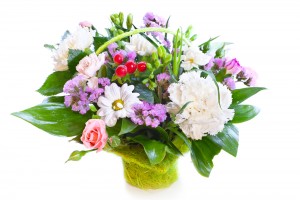 Seasonal plants and flowers are another great way to show you gratitude, as they are in-step with the weather outside and in-tune with our feelings according to the month of the year. In springtime, you have a wealth of flowers to choose from, such as tulips, daffodils, irises and more, all of which are sunny ways to say, 'Thanks'. In summer, consider roses or sunflowers, depending on the month. There are even great choices to make for autumn or winter to say, 'Thank You' and mean it. Whatever your friend or loved one has done to deserve your thanks, make sure that he or she is aware of how much the gesture meant to you by sending a beautiful bouquet or potted plant from us.

You can also choose to create your own design by calling us on 020 3900 2443 any time of day. Our knowledgeable florists are standing by, ready to take your call and help you design the perfect Thank You flowers for your helping hand. There's no need to spend a bundle to show your appreciation, and with free delivery on many of our bouquets, you'll be glad you contacted FlowerDelivery.org.uk.