Flowers Can Express Every Emotion, Even Sympathy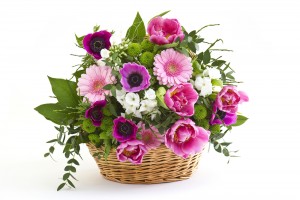 When someone you know has experienced a loss, it is often very difficult to know what to say and what to do. Your first response may be to show up in person with a home-cooked meal. This gesture, of course, will certainly be appreciated. A phone call will also make the bereaved know that you are there to help in times of grief. But besides that phone call, there is something else that you can do to ensure that your condolences are felt wholeheartedly. Have a sympathy bouquet from FlowerDelivery.org.uk sent to the home, funeral home or the church of the dear departed. This gesture is the surest way to express your sympathies while not overstepping the privacy of the family experiencing loss.

Often, those home-cooked meals and personal visits are not possible, especially if distance separates you from your loved ones. With more an more people living abroad and seeking lives other than their hometowns, it is likely that you will be in this position at some point in your life. Either you have moved away from the place where most of your family is based, of you have friends and family members who have traveled afar to work and live. While it is hard to stay in touch when distance and time differences lie between you, there are certain times when it is always welcome to show that you still care about your relationship. And the loss of a loved one is certainly one of those times.

With us you can send whatever you feel best portrays your sentiment. When choosing a bouquet or arrangement, however, keep in mind a few words that should guide your selection – peace, sympathy, and love. You want the flower arrangement that you send to express your sympathy and love and your wishes for peace for the dearly departed and the grieving family. There are certain traditional arrangements that are expected at every funeral or wake, but there are many other ways to show your sympathy with flowers.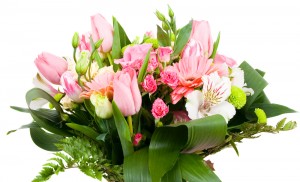 A peace lily is a classic gift during such a difficult time. They are long lasting and the blossoms resemble candles lit in honor of the loved one who has passed. You can choose, too, the container that best suits your tastes or those of the recipient family. We offer baskets, porcelain vases and more. When a basket of flowers is in order, there are plenty of choices and tasteful ways to express sympathy. Add a white ribbon and you can immediately portray 'Sympathy' for the family of the departed.

White is, of course, a traditional hue to choose for sympathy flowers. They are peaceful and calming at what can be a turbulent time for the family. White lilies, in particular, are the most commonly delivered bouquets when you want to say how sorry you are for the loss of a loved one. But white lilies can be combined with many other lovely blossoms, such as white roses or white tulips, with a similar sympathetic effect. A bouquet entirely of white roses, or white roses combined with some well-placed greenery are symbols that say just what you mean when words fail you.

Often when giving sympathy flowers, you would like to reflect a bit of the personality of the departed, to show how much you care. Add a single ribbon of a particular colour or a few accent blossoms as a celebration of life instead of just sending flowers that are intended to mean that one is in mourning. After all, a funeral is not just a time for sadness and mourning, but a time to celebrate the accomplishments and relationships of the dearly departed. Spending some time to choose just the right sympathy bouquet can really show the family how much you care about their feelings. If you don't see the perfect arrangement on our site, you can ring us on 020 3900 2443 and one of our expert florists will help you select the perfect gift to show how you feel.

Potted plants are another popular choice for sympathy flowers. Try a potted white azalea or a potted white gardenia to show your feelings. A potted peace lily is another perfect choice. Aside from potted plants and flowers, however, there are other options for showing how much you miss the dearly departed. A sympathy wreath, usually sent to the funeral home or the church, is always a good choice when you are unsure of what to send. These wreaths are classic, with lilies or roses against a backdrop of green leaves. Wreaths can come in different shapes, as well. The typical ring is what most people choose, but you can also select a funeral wreath in the form of a heart or that of a cross. A funeral wreath may be delivered with a special stand so that it can be placed in the church during the service.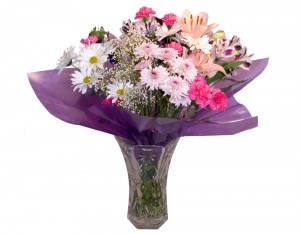 If you are very close to the family and are acting on their behalf, it may be appropriate for you to take on the duty of ordering the casket spray. These are the flowers that are laid, as a blanket, over the closed casket during the service. It is not necessary for casket sprays to be white, although this is certainly an option. With casket sprays, you can choose a single colour of many different types of blossoms owers. If you do not know the details of the service, it is best to leave this decision up to the family of the departed.

During such a difficult time, flowers are truly appreciated by the family and friends who are grieving. They are a way to show your love and support at a time when the bereaved often need calm and peace around them. There's nothing more calming and peaceful than a beautiful bouquet of flowers from FlowerDelivery.org.uk.