Sunflowers Bring the Sun Inside, No Matter What the Weather is Outside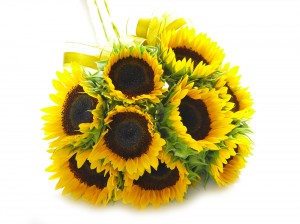 Sunflowers have a pretty obvious name. Just picture the large, yellow head of these tall flowers and you have the image of the sun in your mind. The petals are like rays of sun radiating away from the center, spreading light and shining on those around it. It's no wonder they are called sunflowers, really. But did you know that sunflowers are also devoted to the sun itself? When the sun rises each morning, fields of sunflowers planted all over the world turn toward the warmth and light. And as the sun passes overhead, the flowers turn their "faces" to follow it. They are the symbol of the sun in many cultures and in art and literature, and it is easy to see why.

Sunflowers are also associated with summer, when the sun is hot and high in the sky. That is because sunflowers peak when it is hottest, their huge blossoms drinking in the sunlight during the longest days of the year. When you have flowers delivered to a friend or family member, sunflowers can deliver light and joy and happiness to them. They are obviously sunny flowers, with their bright yellow petals and yellow and orange centres. But they are also so pleasing because of their perfect shape and openness. You can't help but have your mood lightened when you see sunflowers, so they are a great choice to make someone's birthday or anniversary sunny and bright.

FlowerDelivery.org.uk offers great sunflower arrangements that use the size of the flowers and blossoms to their utmost. It is one thing to receive a bouquet of beautiful summer flowers that you can place on your kitchen table. It is quiet another to receive an oversized arrangement in a tall vase or vessel that is so large it must be placed on the floor. If you want to give someone a hearty helping of joy, a sunflower bouquet is the way to do it. They will show just how overflowing your heart is with love and happiness that your friend or special someone is in your life. There's no need to worry about having a large bouquet delivered – this could be awkward to do if you bought it at a florist and are trying to deliver it yourself. Think of how you would get it into your car without ruining the blossoms or breaking a stem. Our delivery vehicles are large enough for even the tallest arrangements and we keep them cool so that your flowers arrive in perfect condition, no matter what.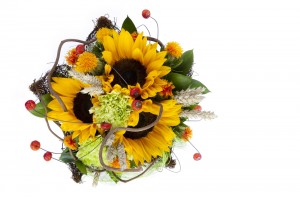 For that friend who is interested in the environment and loves gardening and organic products, sunflowers are the perfect symbolic gift for him or her. They evoke green ideology, so they are the perfect match for people who ascribe to those ideals. They have become important parts of the culture and art of many countries around the world, although they originated in the Americas. Once they arrived in Europe, they quickly became important crops for the oil and seeds and the animal feed that they can also be used for. But those are the utilitarian uses. Even if the sunflowers in a field reminding you of a warm summer's day are destined for food products, that doesn't mean that they can't still bring joy to your home or office. Placing a simply bouquet of cut sunflowers on your kitchen table will give you a sunny feeling from the moment you pour that first cup of coffee until you turn out the lights at night.

Sunflowers last a long time, too, so they can make great arrangements and gifts that will stick around for a while. Just because sunflowers have such large flower heads, doesn't mean that they can't be paired with other blossoms. You may think that they would overwhelm any other flower in the vase. This is not true, however. Not all varieties of sunflowers have giant blossoms, and some of the ones that we use in our scrumptious bouquets are more petite than what you have seen growing in the fields. They can be paired with many varieties of flowers for bright, happy arrangements. They can be combined with orchids, lilies, roses and even gerbera daisies, depending on the emotion you would like to capture. The smaller blossoms when paired with roses can be quite glamourous, while a gerbera daisy bouquet will be enhanced by sunflowers making it even more summery and joyful.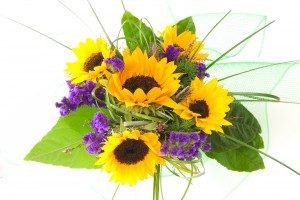 When you call FlowerDelivery.org.uk on 020 3900 2443 today, you will be greeted by one of our friendly floral experts whose attitude is just as sunny as the sunflowers themselves. We can help you choose the best way to send sunflowers – in a box or a vase or vessel of your choosing. No petals will be bruised or damaged and the flower heads will be open and bright for your loved one's special day. Have them delivered in a beautifully woven basket and it will be like you just returned from a summer's day walk in the fields. So order today and have some sunshine delivered by us – you will be amazed at how quickly sunflowers can scare away those dark clouds overhead.

Whether you worship the sun or not, you will easily see why so many people worship sunflowers. They can be used for many occasions as unique gifts or decorations. Are you having a summer wedding or birthday? Choose centerpieces of sunflowers to add a splash of sun to your tables. Summer baby showers or anniversaries are other great occasions for sending sunflowers. Specifically, it is the flower you should choose if this is your third wedding anniversary. But they are also a little different than the typical flower arrangements and can be a welcome change from the same old bouquets. Warmth, adoration, happiness and longevity are the meanings associated with sunflowers, so you can see why they might be the perfect choice for your loved one.