When Giving the Gift of Roses, Choose the Colour to Match Your Mood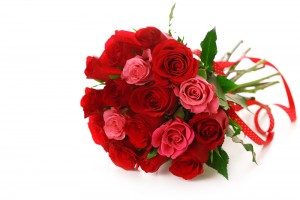 If you are looking for the perfect bouquet to send to a loved one, no matter what the occasion, you can never go wrong with roses. It is easy to associate roses with Valentine's Day and of course the colour red for passion. But roses can mean so much more and are definitely not just for giving on February 14th. Roses come in as many colours of the rainbow as you can imagine – orange, yellow, white, red, pink, and once you add some greenery into the bouquet and a bright vase, you will have a candy-coloured feast for the eyes that will brighten anyone's day.

A fresh, classic bouquet of a dozen long-stemmed red roses is what most people think of when they consider having flowers delivered. That might be the perfect gift before a romantic evening out, an anniversary or even a marriage proposal. But roses can say and do more than they are often given credit for. Their intoxicating scent and intriguing shape have the power to transport you to a sunny summer day in the garden or back in time to granny's house. And when roses are combined with other blossoms, they can act as the anchor to an bursting bouquet that will certainly make you feel good about giving it to someone you love.

The list of rose species is long and represents indigenous varieties from all over the world. They all come in different sizes or blossom, different colors and even differences in the petal shape (and therefore shape of the bloom) can be seen. From North America to China, North Africa to India, roses are everywhere. Why not call us today on 020 3900 2443 to see what exotic types of roses you can choose for your friend, partner or mum. You will be amazed at the variety we offer and the incredible creations we can make with just roses. But we also have an amazing catalog of combinations that our expert floral arrangers can pull from to provide you with the perfect rose bouquet for any occasion.

When you contact FlowerDelivery.org.uk for a unique rose arrangement, we will start by discussing what occasion you are celebrating and the emotion you are trying to convey. All sorts of sentiments can be expressed by roses alone and it is important to choose not only a colour you like but the one that will mean what you intend it to. Red, of course, is for love – but not just romantic love; it can also connote respect, beauty, congratulations and courage as well as passion. A single, long-stemmed red rose is the simplest way to say, "I love you" with flowers. The meaning is never unclear. Darker red roses signify unconscious beauty, a much more subtle message to send.

But as discussed above, roses are not just for St. Valentine's Day. Roses are the perfect flower to give on many occasions, all year long. White roses, which portray purity, innocence and reverence are a sweet way to show how you feel if you are shy. And for Wedding Flowers, white roses mean sheer happiness. What better way to celebrate your special day, the happiest one you'll have?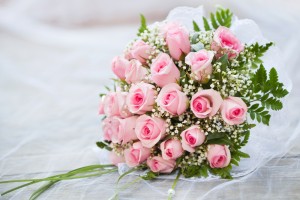 Pink roses are pleasant, and a bit more demure than bright or dark red. They mean admiration and are associated with gentleness and grace. They are the perfect way to say, "Thank you" for a kind gesture or a thoughtful gift. Even with pink roses, there is room to play with the sentiment; darker hues will signify gratitude, while lighter shades can be used for sympathy, sweetness and joy. Everyone knows that yellow roses are the symbols of friendship, but there are other signals that they can give off as well. If you want to let someone know how much you care about him or her, say it with a vibrant bouquet of bright yellow roses. They are the perfect gift to give to signify a new beginning or to denote fond remembrances.

Red roses – those classic, pretty blossoms – mean passion and love. But have you considered the signal that orange roses can send? They will shout your desire and explain your enthusiasm with no words at all. Other colours such as lavendar, coral, peach, and certain combinations are also important symbols of our strongest feelings. As you can see, there is a rose – or a combination of them – that is perfect for every and any occasion. Whether you want to send a beautiful bouquet to a new mum to congratulate her on the birth of her baby or to your mum for Mother's Day, we can find the roses for you. Anniversary coming up? Impress your partner with a one-of-a-kind selection of the fullest, most luscious roses. Birthdays, holidays, celebrations, or just plain old Tuesdays – whatever the reason you want to send flowers we have the rose bouquet for you.

Our low prices and guarantee satisfaction leave a great impression on our customers, so they keep coming back to FlowerDelivery.org.uk for all their flower delivery needs. If you really want to impress, try a giant rose bouquet of the largest blossoms and the fullest shades of red and pink. Or make a playful friendship bouquet with orange, yellow and white. Whatever colour combination you prefer and whichever sentiment you would like to convey, you can do so by calling us on 020 3900 2443. The friendly, knowledgeable customer service and guidance what you will get from us will convince you of the great value we offer to our customers.

Long-stemmed or short, in a glass bowl or colored vase, a box or a basket, everyone appreciates getting roses delivered to their door. The simple elegance of these magical blossoms is one of the most heartfelt gifts you can give. Browse through our colourful array of bouquets and gift ideas to get your imagination going, order with the click of a button and the roses will be on their way for delivery tomorrow!