Make Any Day Romantic with Flowers from FlowerDelivery.org.uk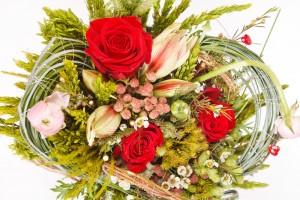 There are certain times of the year that we associate with love and romance. Anniversaries, of course, and Valentine's Day come to mind. New Year's Eve is also a holiday for lovers, and many couples celebrate their own holidays or important dates with a romantic night out on the town or a romantic evening in at home. But no romantic holiday can truly be complete without flowers. Flowers have been a symbol of romance and courting for centuries. Their sumptuous colours and lovely perfumes are just the things to put one in a romantic mood. Of course, there are some pretty typical arrangements that people go in for when it comes to romantic gestures, but with all the different types of flowers and bouquets outthere, why do what everyone else does? This year, when you are celebrating a romantic holiday or an anniversary with your loved one, why not choose a bouquet from FlowerDelivery.org.uk that shows your creative side?

While our arrangements are very reasonably priced, no one will ever know that you spent less than the premium amount for your Romantic Flowers. A dozen red roses with baby's breath are a classic choice when it comes to celebrating a romantic moment. We have the largest, fullest blossoms around and you can choose the vase or container that you wish to include as well. But why settle for just one dozen roses, when you can easily upgrade to two or three dozen roses in even more dazzling arrangements. If you really want to wow your loved one this year, an overflowing bouquet of luscious red roses are definitely in order. Just be sure to order on time, at least the day before so that delivery will happen just when you need it to, in order to create the biggest surprise possible.

Red is the colour of passion, so red roses are a typical gift for Valentine's Day and anniversaries. They also go well with New Year's Eve, since darker colours invoke the warmth of the indoors during winter as well as the love you share. But romance is not only about passion. There are many ways that you can express your love for someone with a variety of flowers that do not include only red roses. Think of all the emotions and terms we use to describe love – sweetness, happiness, joy, security, gratitude, and many more. There is a flower or two or three for each of these sentiments and they can all be included in the overall feeling of Romance.

A bouquet of pink roses can be just as romantic as those passionate red ones and multi-coloured tulips make a wonderful romantic gift if your anniversary happens to be in the springtime. Combining red blossoms with white ones is another way to create that romantic feeling, especially if the whole arrangement is presented in a lovely vase to complete the package. Pink is another colour that we closely associate with something romantic, so aside from pink roses, you can choose pink stargazer lilies, pink tulips, pink daisies for young love, or pink blossoms of any kind really. Think of how romantic the arrangement will be if light and dark pink shades are combined to create a gorgeous effect.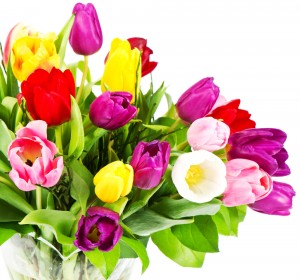 White is another good choice for Romantic flowers as it can be combined with any other colour to balance the bouquet. White lilies and pink roses? Perfect. White tulips with red tulips? Stunning. White flowers have an ethereal feel to them that no other blossoms can quite express. You can show your loved one how heavenly your relationship is with a beautiful bouquet of white roses. Bright, multi-coloured bouquets are usually associated with helping someone to feel better or welcoming a new baby, while flowers for romantic moments are generally deeper tones or more muted hues like white and light pink. But there are no hard and fast rules when it comes to choosing flowers for your loved one. You are the best one to decide what your spouse or partner will most enjoy, since you are the one that knows him or her best, of course. If yellow gerbera daisies are your partner's idea of romance, then choose a full bouquet of yellow gerbera daisies and you will be giving a very personal romantic gift.

While roses are a mainstay of every Valentine's Day, some people may prefer lilies or tulips or some other blossom that makes them feel in a romantic mood. With our company you can choose any type of arrangement and we will deliver it straight away, just before the peak of the blossoms, so that your loved one can enjoy the gift for as long as possible. Many people may not consider potted plants to be very romantic gifts, but we think they can be quite romantic in their own right.