Lilies Can Make an Extravagant Gift for Everyday Occasions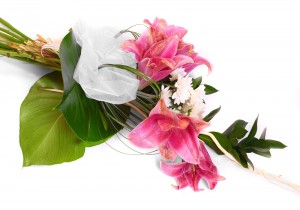 With intriguing names like Oriental, Stargazer, Peruvian and Royal, you will be convinced of the versatility of lilies when you view what FlowerDelivery.org.uk has to offer when it comes to these bursting bouquets. The unique thing about lilies are the variegated colours that make them so interesting to gaze at. This also means that they can be paired with almost any other type and colour of blossom for some truly elegant and exciting bouquets and arrangements. There are lovely lilies with large, star-shaped blossoms that burst from the stem and fill the bouquet with colour. But there are also smaller, more petite and more delicate varieties of lily whose shapes and colours will surprise you and your loved one.

Consider sending lilies for any occasion, though they are often associated with sympathy because they can symbolize the departure of the soul and its restoration to innocence. This lovely sentiment makes them the perfect gift for bereavement, a calming bouquet for the senses. Lilies and their bright colours and varieties can be sent to a friend or loved one with many other meanings as well. Their delicacy can connote tenderness and the bright hues can be associated with different feelings, such as happiness and sincerity. The large blossoms that most people think of when they hear the word "lily", are the perfect way to show that you are bursting with love for the object of your affection.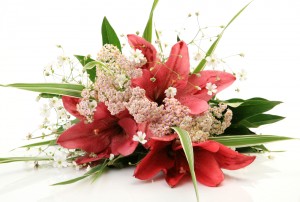 Lilies are more extravagant in terms of presentation than, say, tulips. They simply demand attention when a bouquet includes them. There is so much to take in when gazing at lilies – the different colours that appear towards the middle, the buds that have not yet opened but are already showing signs of colour despite being swathed in green, and the smooth stem and the leaves that alternate with the blooms, providing the perfect balance of green to the colour of the blossom. Each lily stem has more than one flower and they often open at different times, making these blossoms the perfect choice for a long-lasting gift. Your loved one will enjoy watching the lilies change each day and the anticipation of when the next bud will open to reveal another huge bloom is part of the gift you give.

But despite their extravagant appearance, lilies do not have to break the bank. When you order lilies from FlowerDelivery.org.uk you will be saving a significant amount over the competitors. Moreover, our lilies are the freshest and most extravagant on offer. Choose a simple arrangement of just a few stalks to add a burst of colour to a room and a smile to anyone's face. Or opt for a more lavish bouquet arranged with many lilies of different colours and other flowers to complement the starry blossoms. You will be totally satisfied with the lilies that arrive on your doorstep or that of your friend or loved one. Not all the buds will have opened yet, meaning that you will get the most enjoyment for your money. The longer your bouquet lasts, the more fondly you will be remembered for giving the bouquet in the first place. Imagine your partner, friend or mum starting each day with the sweet scent and picture-perfect arrangement of lilies that you have chosen specially for him or her. You will feel good knowing how good lilies can make others feel, so call us today on 020 3900 2443 to place an order or ask a question about lilies. Our friendly and knowledgeable staff is happy to help.

Lilies have been around for centuries and white ones are closely associated with virtue and chastity; they even signify the purity of the Virgin Mary as the Queen of the Angels. If you have a friend, spouse, mum, daughter, aunt or special someone whose birthday is in May, a bouquet of lilies will be a welcome gift, as they are the birth flowers for the month. They are also the gift to give for a 30th anniversary. If you are celebrating a marriage that has lasted so many years, you will certainly want to decorate your time together with these extravagant blossoms. The longevity of a 30-year marriage is definitely something to be praised with a special flower delivery. But since there are so many varieties of lilies it can be hard to choose which ones to include in your gift. Not all of them have the recognizable oversized blossoms, either. There are delicate, smaller blossoms that are sweeter than you can imagine.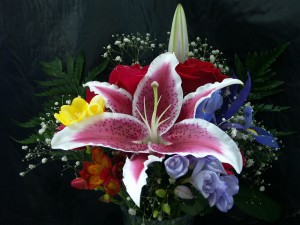 Giving Peruvian lilies as a gift is a symbol of your devotion and friendship, so they are the right choice for birthdays, co-workers, best friends or anyone you are devoted to. Sympathy can be expressed by white Stargazer lilies, but pink ones are for prosperity and wealth. Maybe you should choose some pink Stargazer lilies for a friend or loved one who is starting a new business venture or selling a home. Lilies of the Valley, another popular choice, are the flowers to include with your second anniversary gift, to show your spouse how special he or she is to you.

Combine lilies with tulips and you have the picture of spring; add Stargazer lilies to any bouquet and it instantly becomes eye-popping. There are so many choices when it comes to lilies that it may be hard to know where to begin. Start by browsing our beautiful images and see what you like. You are sure to find something that is fitting for the occasion, no matter what it is. Even if there is no occasion and you just want to add some colour and elegance to your home or to brighten a friend's day, lilies will do the trick. These long-stemmed beauties are often best displayed in a tall vase with a complimentary colour or one made of glass. But you won't need to worry about any of that when you order from our website – we have done all the work; all you need to do is place the order.