Hand-Tied Bouquets from FlowerDelivery.org.uk are Sure to Impress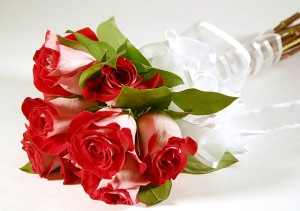 What is a hand-tied bouquet? And when does the occasion require one? Well, there are many different types of hand-tied bouquets, and although we most often associate them with weddings, they are available for many occasions. Have them delivered to your door from FlowerDelivery.org.uk and you will always be pleased with the results. Hand-tied bouquets can be carried by brides, bridesmaids, flower girls and the mothers of the bride and groom for that seamless look to your wedding. They can also be ordered for confirmations or as decoration for your home.

The most common hand-tied bouquet types are posies, nosegays and Biedermeiers, and if you aren't sure what is right for you, read on to learn about the symbolism of these lovely bouquets. Other hand-tied bouquets do not have a specific name or type, but arranged and tied in such a way as to fit perfectly into a vase. When the bouquets are tied by our expert florists, every blossom will stay in place, no matter what and the look of the bouquet will be just as neat as the day it arrived on your doorstep.

Posies were very popular gifts for courting during the Victorian period. They were given by lovers and contained hidden messages, since flowers held very powerful symbols. The stems of the flowers in a posy are wrapped tightly with floral wire and then wrapped with ribbon or fabric, so that the person holding the posy has a perfect grip on the bouquet. The stems are usually short and fit perfectly in the hand, creating lovely pictures for a wedding, of course.

If you are unfamiliar with some of the terms of hand-tied bouquets, not to worry. Our helpful florists can answer any questions you have about what types of hand-tied bouquets are appropriate for certain occasions and what types of flowers are most suitable. A bride can carry a larger hand-tied bouquet of roses or lilies, while her bridesmaids follow with smaller versions of the same. Most of these types of bouquets do not include greenery and the effect is of a lush, full bouquet of just the most perfect blossoms. The blossoms are tightly wound together, making a smooth look for your hand-tied bouquet.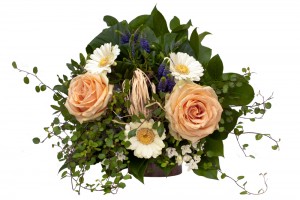 The nosegay is a small bouquet of herbs or flowers, and the blossoms are often surrounded by tulle. This hand-tied bouquet is quite festive and is a bit more formal than a regular bouquet of flowers, so it is perfect for church events such as weddings and confirmations. While brides usually carry larger hand-tied bouquets, bridesmaids or the flower girl could carry a nosegay to complement the wedding flowers. The Biedermeier is a third type of hand-tied bouquet that was quite popular in centuries past, but that can be used today to create a beautiful look for your wedding or event. This type of hand-tied bouquet involves flowers tightly gathered in rings, so that each ring has one type of flower or one colour. Think of red, pink and white roses in rings within a single bouquet and what a statement that can make. Or you can layer lilies in the centre, roses in the next ring and a smaller blossom in the outer-most circle. The options for this type of hand-tied bouquet are limitless and you can choose more than one blossom or all your favourite colours, so there are more variations that can be had.

For brides who are looking for wedding flowers to make a statement, hand-tied bouquets are the best options. You can have all the centerpieces made up of smaller, hand-tied bouquets in glass bowls or vases and you can have them match your bouquet and your husband's flowers as well. But hand-tied bouquets are not limited to weddings. If you are throwing a party in your home, whether in the backyard or the formal dining room, hand-tied bouquets offer elegance in an understated, simple way. Choose one large hand-tied bouquet of stunning blossoms to really make a statement, or place a number of complementary arrangements on different tables or different surfaces throughout your home.

Any type of flower can be placed in a hand-tied bouquet, although when we think of them today, we most often think of bunches of roses, tightly tied together. Whatever your favourite flower or colour, we can create the hand-tied bouquet to suit your event or occasion. You will be thrilled by what a hand-tied bouquet can do for your home's décor. These bouquets are carefully crafted by our expert florists, each blossom placed in the optimal position and all of the blossom secured together so that nothing will ever be out of place. Then, our careful drivers will deliver your hand-tied bouquet in the perfect condition so that it will be as if you clipped it out of a magazine. If you are ordering a number of hand-tied bouquets for a wedding, christening or confirmation, we can deliver them directly to the church or event space, so that you won't need to worry about transport.

So whether you are choosing a romantic arrangement for your special day or the most perfect decorations for your home, think of posies, nosegays and Biedermeiers from our company. Whether you will be carrying the hand-tied bouquet down the isle or placing it in a position of prominence in your home, you won't be able to take your eyes off this elegant arrangement. Call us today on 020 3900 2443 to find out about discounts for large orders and to place your order ahead of time. After all, these special bouquets take care and time to create and since you want every flower for your special even to be perfect, you need to order them now. Calla lilies, roses, tulips, gerbera daisies… any type of blossom can be arranged tightly into a hand-tied bouquet. Whether you choose a bouquet of all one type of flower or mix different blossoms together, the results will always be dazzling when you order from our site.