Flowers Can Say It All For You When It Comes to a Funeral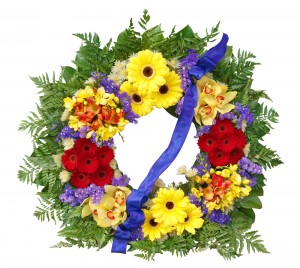 When a friend or loved one passes away, it is always difficult to know what to say and do. It is hard to know how to act in a difficult time, and it is tough to know when is the right time to call to offer condolences. Loss is never easy, especially for the surviving family members, friends and loved ones. You can show your sympathy for the bereaved by having a sensitive arrangement delivered to the funeral home or the deceased's house or church.

When someone is struggling with the loss of a loved one, it is hard to know what is the right thing to do. But sending flowers is always a gesture that will be appreciated even during the toughest of times. Sometimes, we are at a loss for words when attending a funeral or a wake, but sympathy flowers can say everything that you wish you could convey to the spouse or the children of the deceased. You can help them remember the beauty and happiness of better days and you can recall wonderful memories for them by giving the gift of flowers.

How will you know what to order? The task of choosing flowers to send for condolences is a difficult one and can be even harder if you were very close to the deceased. That's why we have created a complete catalogue of a wide array of styles and arrangements that are suitable for a funeral. Our expertly designed bouquets are constructed with the grieving family in mind, meaning that you won't have to worry about offending anyone. Generally speaking, lighter colours are more appropriate for sympathy flowers since the emotions are already running high. The focus in these situations should be on celebrating the life of the friend or loved one you have lost and you don't want to draw too much attention to the flowers.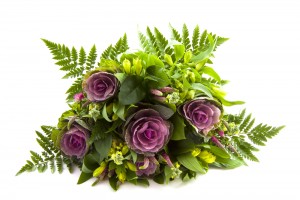 It is important, however, to show how much you care, so take the time to choose the right arrangement for your loved ones during this difficult time. The first step is to decide which type of arrangement that you would like to give or have delivered. You can choose from large sprays and sheaves that match the overwhelming emotions you are feeling. You can also choose from a selection of Casket Sprays or the traditional Wreaths that are common at funerals. Another popular choice for sympathy flowers is a cushion made of small blossoms that can be laid around the casket or on top as decoration. Make sure you know, however, where the flowers are to be sent and always respect the family's wishes when it comes to sending sympathy flowers – they may be overwhelmed at this time, so it is best not to make any extra work for the family. It might be better to have the flowers sent to the home instead of to where the funeral service will take place so that family members will not have to transport the arrangement after the service.

Keep in mind that sympathy flowers should be in more muted hues. This is not the time to choose a large bouquet of exotic, tropical blossoms unless you know for sure that they will be appreciated by the family. Conventionally, sympathy flowers are a gesture to show you care, not a time to show off your creativity or taste for exotic floral arrangements. That said, there is still room for creativity, but within the confines of a bit of protocol. There are many blossoms that you can choose for a sympathy bouquet that have light hues but are still stunning to the eye. Remember to choose carefully when choosing sympathy flowers so that you will evoke the fond, wonderful memories about someone and not upset those who are mourning.

A posy or a basket is a nice way to say how much you care and to send something a little different than everyone else. The base colour for most posies will, of course, be white or cream. But you can choose one with a subtle splash of colour that will be appreciated on such a sad day. Posies are all about elegance and simplicity. Remember that understatement is the key when it comes to Funeral Flowers because while you want to express your sorrow for the mourning loved ones of the deceased, you want o remain muted in your outpouring of sympathy.

Now is the time to pay tribute to the person that you and your friends and family will miss so dearly. His or her life should be celebrated and there is no better way to share your feelings or express your condolences than with an overflowing basket of lovely blossoms. This choice is a gracious way to show how much you care. Your choice of flowers during this time can say a lot. It can convey the many emotions that you and your loved ones are feeling by saying the words for you.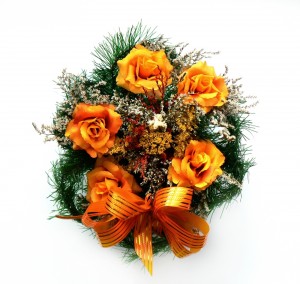 FlowerDelivery.org.uk has spent much time and effort designing just the flowers that you will feel comfortable sending as your condolences. You may not have the time or energy to get to a flower shop and choose a bouquet. It is sometimes difficult even to thing straight at a time like this. Leave the thinking up to us so that you will feel comfortable and secure knowing that your most heartfelt sympathy will be expressed in a very meaningful way. Sending flowers or having them delivered at a time of loss truly is the best way to express your most sympathetic feelings for the bereaved. Flowers come from the heart and you can feel in your heart that you have brought comfort to a grieving family.

Leave the design and delivery up to the professional flower arrangers at our company; we know that you may have trouble getting to a flower shop – and even more trouble making a decision about sympathy flowers. It's natural to rely on the friendly service of FlowerDelivery.org.uk during this difficult time.