Balloons Added to Flowers Give Your Gift Buoyancy
When you think of the word 'bouquet' you probably think of a brightly coloured arrangement of fresh-cut flowers. FlowerDelivery.org.uk is the leading name in flower delivery, so you may have even ordered flowers from us before. But if you've never checked out our range of other types of 'bouquets', now is the time to discover just what you have been missing when it comes to surprising your friends and loved ones. The term bouquet, for us, can also refer to a lovely collection of brightly coloured balloons, as well as flowers. Balloons are a great gift to give for most any occasion, as they add a sense of fun and whimsy.

Balloons are a way of announcing many things. Think of the white balloons you see indicating that a wedding is about to take place. Some are used at political rallies and fun fairs alike. Every child delights in balloons as there is just something so special about watching the colourful orb bob in the wind. If the balloons are made of Mylar, they will glint in the sun and are sure to catch the eye of anyone around. When you have balloons delivered by us you are not limited to just one or two varieties. We have all types of balloons for all different sorts of occasions, so you can find just the right combination to celebrate your special event.

Mylar as well as regular balloons can have special messages printed on them, that become cartoonish and playful when the balloon is blown up. Commonly, you will see 'Happy Birthday' printed in colourful block letters that are often decorated with graffiti or other designs. These balloons aren't just for kids – they can bring a smile to the face of even the most serious grown ups. But balloons can say other things as well. 'Congratulations' is another common sentiment for a balloon, but you can show you care for other occasions too.

The birth of a new baby is a joyous occasion and people often let the world know by tying blue or pink balloons to the front door signifying that the little one has arrived. Now you can order balloons that declare, 'It's a Boy!' or 'It's a Girl!' and are joyfully decorated with cute toys and pictures. You can order a New Baby bouquet for delivery from FlowerDelivery.org.uk for your own home to save the trouble of heading to the shops. Goodness knows you have enough going on with the arrival of a new baby already. Or, you can deliver a lovely basket of flowers combined with a message balloon to the new mum and dad. They will really appreciate your showing of love for the new addition to the family.

Balloons can come in non-traditional shapes as well, even though you might think that you are limited to round or balloon-shaped ones. There are hearts, stars and much, much more available, so these balloon bouquets can fit any occasion. If you have a co-worker who has been under the weather, send a 'Get Well Soon' balloon and some flowers, carefully delivered by our expert drivers. That can be a welcome bit of colour in your home if you have been staying in with the shades drawn. You can let them know how much you care with some bright balloons.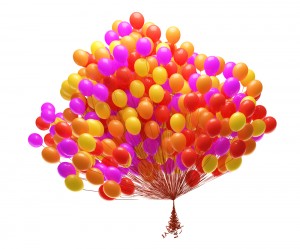 Valentine's Day, anniversaries and birthdays are other great times to send a balloon bouquet or a flower and balloon combination gift. While 'Happy Birthday' balloons are common, you will find that even 'I Love You' can be expressed on a heart-shaped balloon for your special day with your special someone. A red, heart-shaped balloon could be the perfect gift for mum on Mother's Day, sis on her birthday, your partner on your anniversary or the 14th of February and more. You may want to send a lovely bouquet of balloons and flowers for no good reason at all, which, if you ask us, is the best reason of all. Sending a spontaneous gift of flowers and balloons delivered to your friend or family member's door will surely brighten his or her mood, lift the spirits and add some colour to the day.

One of the great things about a balloon bouquet is that they come in different sizes as well. You can choose an oversized bouquet that will fill an office to show an outpouring of emotion. Or you can choose just one or two balloons that have been printed with a special message. So the next time you have the occasion to celebrate with a friend or a loved one, think of a flower and balloon combination gift that can be delivered to his or her door. Surprise is the first thing that he or she will feel and gratefulness and happiness will follow. And just like flowers, balloons can come with long or short 'stems'. If you want a gift that will fit on a desk or the tabletop, we have the right one for you. If you want a gift that will have your loved one lifting his or her eyes upwards to take it all in, we've got that covered too. Whatever emotion you would like to display and portray, we've got the balloon and flower bouquet combination that will do the job.

Choose just flowers or just balloons as a way to say 'thank you', 'get well soon', or 'I love you'. But add the two together and you will be saying so much more. Call us today on 020 3900 2443 to see what options we have for you in terms of flower and balloon gifts. You will be amazed at the range of sentiment that can be displayed by even just one balloon. Add a little colour, a little fun and a little bit of joy to your loved one's home or office. Wherever you need balloons delivered, we'll have them there in no time. We offer the best prices, too!